Returning Patients (Patients who have received an examination at the Hospital before)
Reception hours

7:30 AM to 11:00 AM

Reception window

Automated check-in machine

Required documents

Originals (not copies) of health insurance card and other medical care certificate (elderly recipient certificates or similar)
1. At the automated check-in machine
On your second and later visits, carry out reception procedures using the automated check-in machine unless you have been given special instructions.
The automated check-in machine operates using a touchscreen. Insert your hospital card to display a list of all the outpatient departments. Lightly tap the screen with your fingertip to indicate the department where you want to receive an examination.
(If you have made an appointment in advance, the appointment details for the date will be displayed on the screen.)
When you have completed the reception procedures, the machine prints out a check-in slip.Check that the information on the slip is correct.
2. At the medical department
Go to the reception window of the corresponding medical department and give them your hospital card and check-in slip.
Do not forget to give your hospital card to the reception window of the medical department. If you do not provide your card, your arrival cannot be confirmed and you will not be placed into the examination waiting list.
When your reception number is displayed on the electric bulletin board, proceed to the examination waiting room.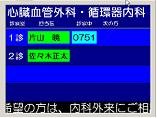 When it is your turn, your name will be called from the examination room.When your name is called, proceed to the examination room.